DDoS Attacks Surging in 2020
Neustar, a global information and technology provider company, revealed that it found a 168% increase in distributed denial-of-service (DDoS) attacks in Q4'19, compared with Q4'18, and a 180% increase overall in 2019.  In its "Cyberthreats and Trends Report", Neustar revealed that it discovered DDoS attacks increased in 2019 across all size categories, with attacks sized 5 Gbps and below seeing the largest growth. The longest single, uninterrupted attack experienced in 2019 lasted three days, 13 hours, and eight minutes, the report revealed. On average, DDoS attacks cost US businesses $10bn per year and $2 million for a medium-sized enterprise.
The cost of a single attack can be anywhere between $20,000-$40,000 per hour.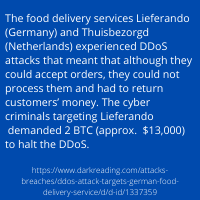 DDoS Commoditization
This growth in DDoS attacks has been attributed to the increasing commoditization of DDoS. Today, a highly businesslike DDoS service-for-hire community makes it possible for virtually anyone to launch an attack.  Industry experts stress that DDoS attacks have evolved into weaponized instruments used to solicit ransomware requests, as well as launch disruptive attacks against their targets for any other reason.
Secondly, the expansion of the Internet of Things (IoT) has played a major role in the recent growth of DDoS attacks. Many of these devices do not implement adequate security controls and usually use the same default credentials, making them easy-game for botnet viruses.
Why existing mitigation does not offer full coverage for all DDoS risks
Along with the above-mentioned shortcomings, mitigation solutions do not constantly re-configure and fine-tune their DDoS mitigation policies. Leaving their ongoing visibility limited and forcing them to troubleshoot issues at the very worst possible time, that is, when systems are brought down by a successful DDoS attack. These solutions are all reactive, only closing DDoS vulnerabilities after a successful attack happens.
With their reactive capabilities to mitigate attacks, even sophisticated DDoS mitigation and testing solutions are at a staggering 48% DDoS vulnerability level. The vulnerability gap stems from DDoS mitigation solutions & infrequent Red Team DDoS testing being reactive, instead of continuously evaluating and closing vulnerabilities.
For example, the high-profile Australian Census website, in 2016 was impacted by a series of four DDoS attacks.  The first attack made the site inaccessible for five minutes. The second for an hour and a half. The third attack was mitigated by geo-blocking but the fourth took down the site.  The conclusion was an inadequate mitigation strategy. The lawsuit that ensued resulted in an out-of-court settlement in 2019.
In November 2019, the British Labour Party suffered two DDoS attacks on the same day in spite of using the services of a leading DDoS mitigation company. The news article on the attacks says that in spite of security processes in place to protect their platforms, users could experience disruption.
Leave Nothing to Chance
RADAR™, simulates DDoS attacks continuously and non-disruptively. Delivering advanced intelligence, through straightforward reports on how to remediate the DDoS vulnerabilities found.  With RADAR organizations achieve, maintain, and verify the continuous closing of their DDoS vulnerability gaps. Reducing and maintaining the vulnerability level of a damaging DDoS attack from an average of 48% to under 2% ongoing.
About MazeBolt
Israel-based MazeBolt is an innovation leader in cybersecurity, with over two decades of experience in pioneering DDoS protection solutions. The company's new flagship product, RADAR™, is a patented, new technology. It offers DDoS protection through automated DDoS simulations on live production, with zero downtime. Working in conjunction with any mitigation solution installed. Its unique capabilities have ensured business continuity and full DDoS security posture for enterprises worldwide including Fortune 1000 & NASDAQ-listed companies.